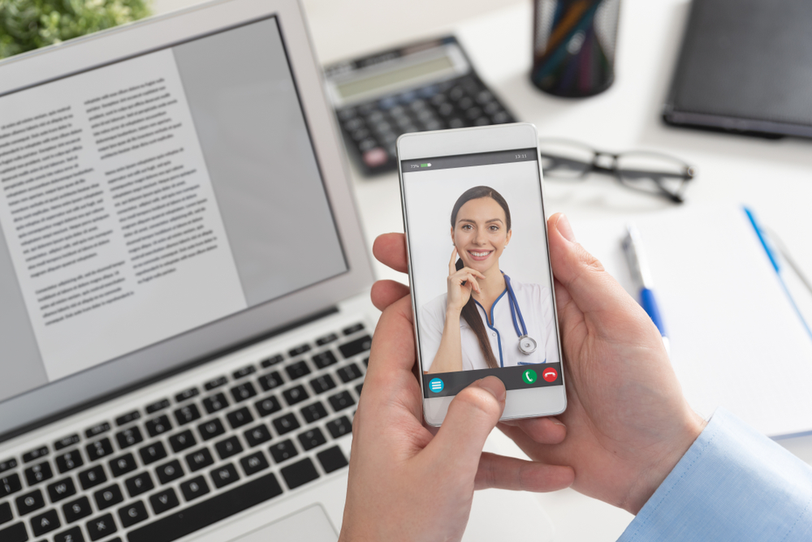 Healthcare workers are working tirelessly to beat the coronavirus pandemic. The coronavirus pandemic has already forced companies to embrace remote solutions. It is also forcing the healthcare industry to increase the capacity of its telemedicine services. This will help them in coping up with the increased demands. However, this is putting a lot of pressure on the IT infrastructure of these providers. The data centers can help these providers in increasing their telemedicine capacity. Thus, they can battle this crisis.
What is Telemedicine?
Telemedicine is a new healthcare technology. Doctors can use it for delivering medical services to other locations. The patients can use telecommunication tools for communicating with doctors. Thus, this will help your patients in maintaining social distancing. Thanks to telemedicine, people can avail of healthcare services without visiting the hospital. This is very important for people that are living in rural areas. They don't have access to advance health care facilities. Thus, they can use various telemedicine tools for connecting with medical specialists.
The telemedicine service is very old. However, it is evolving very slowly when compared to other technologies. The biggest challenge is that healthcare providers don't have access to good IT infrastructure. Also, they need to follow strict regulations like HIPAA. Thus, they can't use cloud technology for delivering these services.
This pandemic is straining many hospitals. Almost every hospital is filling up with people that are suffering from the coronavirus. Doctors need to provide medication to these patients. However, they still need to manage other patients. Also, it is important to limit the spread of this virus. If they will allow other patients in the hospital, then they will also catch the coronavirus. Social distancing is very difficult in the healthcare environment. The telemedicine tools are helping healthcare providers in dealing with these issues. Some of the benefits of using telemedicine software are:
It will free up Facility Space and Healthcare providers time
If people are suffering from a minor injury, then they will first look for medical diagnosis. Sometimes they can directly go to their local health clinics. These patients are going to take up both space and time. Both of these things are very crucial during this pandemic. If healthcare providers are using telemedicine services, then they can quickly diagnose people. Also, they can prescribe some treatments for them. Thus, they will get more time to spend on serious patients. Also, there will be more space in healthcare facilities. Thus, more people can receive treatment in the hospital.
Social Distancing
If you are using telemedicine software, then it will help you in maintaining the social distance. The interaction between the doctor and the patient will be completely remote. Thus, they don't need to worry about infecting each other. The patients can receive a complete diagnosis without visiting the hospital. Thus, it will help people in maintaining social distancing requirements. The CDC has already released strict social distancing measures for preventing the spread of this coronavirus. This will ensure that coronavirus patients are not affecting other people in the hospital.
Telemedicine services can also connect their patients with online pharmacy delivery services. Thus, they can receive medications without visiting the pharmacy. This will further help in controlling the spread of this virus. According to the CDC guidelines, people can visit pharmacy stores for buying their medicines. However, this can expose someone to the coronavirus. Thus, it is a good idea to use pharmacy delivery services.
Telemedicine is helping in providing coronavirus guidance
This virus is very new. Thus, most researchers are still conducting their research. The symptoms of this virus are very similar to normal flu. If people are suffering from fever, then they will probably want to find out if they are infected. The researchers are still working on developing cheap testing kits. Thus, it is difficult to test every people. However, telemedicine software will provide some very important guidance to the people. You can do a teleconference with some healthcare providers. They will help you in determining if you are suffering from coronavirus. These providers will also help you in determining your next step.
The use of telemedicine services is increasing due to this pandemic. This is creating many problems for healthcare providers. Medicare is now covering a lot of telehealth options due to this pandemic. Thus, many people are trying to use the telemedicine service. However, most hospitals can deal with very few calls every day. They don't have the infrastructure to deal with these many calls. Every hospital is currently getting flooded with these requests. Thus, it is straining their whole IT infrastructure. It is important to reduce the strain of the IT infrastructure. If there is more strain on IT infrastructure, then healthcare providers can face downtime. Thus, they can't deliver important services to their patients.
HIPAA Compliance
Most healthcare providers are still using on-premise solutions. Thus, it is very difficult to scale their IT infrastructure. There are many more amazing solutions available in the market. Colocation data centers are providing amazing services to their users. They have an excellent IT infrastructure. Thus, they are offering up to 100% uptime to their users. These colocation data centers are also HIPAA compliant. Thus, healthcare providers don't need to worry about breaking any compliance. If you are working with a carrier-neutral facility, then you can choose between different connectivity services. This will help you in finding the best connectivity service for telemedicine.
Conclusion
The healthcare providers are expanding their telemedicine service for dealing with the coronavirus pandemic. However, they should work with a colocation data center. This will ensure that they can handle the demand. These data centers will offer 100% uptime to healthcare providers. Thus, healthcare providers can offer better services to their patients. This will help them in treating their patients. Also, your patients can get diagnosed without visiting the hospital. Thus, doctors will have more time. Also, there will be more free space in the hospital. Thus, it will reduce the strain on healthcare providers. If you need more tips regarding telemedicine services, then you can contact Bleuwire.
Contact us today to learn about Bleuwire™  services and solutions in how we can help your business.